The Best East London Cleaners for So Many Reasons
London Eye is the company to call on 020 3743 8850 if you want the very best cleaning services in East London. Our reputation alone is testament to the high estimation we are held in by so many businesses and homes in the area. In addition to supplying you with professional cleaners who are trained, vetted and reliable, we offer you a wide range of services so that whatever you're looking for, we can supply it to you. One example of this, is our upholstery cleaning service which gets rid of that dirt deep within your upholstery without damaging the fabric. Our sofa cleaning can transform the appearance of any room and even more so, our carpet cleaning doesn't just bring your carpet back to life but can bring a stunning change to any room. In terms of hygiene we are a company that can be essential to have for your house or flat. For instance, you can sleep easier when you know you've just had our thorough mattress cleaning done. What will also make you sleep easier is when you realise that the price you pay for our fantastic quality cleaning services is such great value. Our cleaning services, including rug cleaning, are available at a cheaper price and it's what we've also become known for in addition to our wonderful cleaners and our wonderful range of services.

East London is an area which has changed greatly in recent years, most notably because of the London Olympics which took place in Stratford in 2012. Amongst the districts you'll find in east London are Tower Hamlets, Greenwich, Bexley and Waltham Forest. The diverse population in this very popular part of London has, in turn, resulted in it being an area which has a wide-ranging array of facilities, both in terms of travel and amenities. There are a whole host of museums, attractions and green spaces in this area covered by postcodes from E1 to E20 which was the postcode for the Olympic Village and the postcode for the fictional area of Walford in television's Eastenders. In E1 you'll find Spitalfields City Farm, one of a dozen city farms located in the inner London boroughs and where you'll find a variety of domesticated farm animals. The East of London is a vibrant, expanding area incorporating both the City of London and more outlying boroughs such as Barking and Dagenham.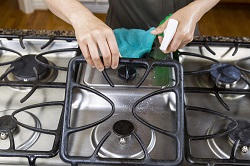 If you take pride in the appearance of your home then come to the East London cleaning company that takes pride in its cleaners and cleaning services it offers. We only hire the best cleaners because of the high standards we are known for and because of this we can give a cost-effective service which still gives a better standard of cleaning. In addition to flat cleaning and house cleaning, we are the very best office cleaning company in terms of price and quality. It may be you want office carpet cleaning then we'll quote you the best price and then do the best job. This is what we do on a daily basis and why all our past clients are so happy with the service we give. We have the resources to clean an entire office block as well as giving you the personal service for your shop or other small business. We can also give you deep cleaning as well as general cleaning. So call us now on 020 3743 8850 and hear how London Eye is the cleaning company you want to hire if you want more for your money. We are the local, professional and friendly cleaners who care about where you are whether it's an East London home or business.